Review of 888 Casino in New Jersey
---
---
Progress. That's the key takeaway from this year's review update at 888. But let's start at the beginning.
"888 Casino" may seem like an unusual brand, but 888 is actually one of the largest online gambling companies in the world. In addition to their own NJ casino offering, they also supply the software for Harrahs casino in New Jersey, and all three of the online casinos in Delaware.
This review is focused on their self-branded site at us.888casino.com.
888 Casino Review
Our Rating:

3.7
---
Summary:
Finally, we're seeing some improvement in the game inventory at 888's NJ casino. Just since December 2017, the game count has more than tripled! These improvements in game offerings bring 888 closer to the norm for the NJ market, although in raw numbers they still lag behind their peers. The highlights at 888 continue to be the best roulette game available in New Jersey, along with a plethora of progressive jackpot slots. Thanks to lots of promotions they are becoming more competitive, and this merits an increase in my overall rating.
After a couple of lackluster years with an inferior game inventory, things are starting to get much better at 888's NJ casino. With their years of experience in the worldwide market, I still find it odd that they are so slow to innovate in the face of increased competition. But it appears that this year, the giant has awakened. As I write this in May 2018, the game count at 888 has more than tripled since December! That is a torrid pace of improvement, and one that will hopefully continue to close the gap with the leaders in NJ.
Let's get started with my in-depth look:
Attractive and Functional Casino Lobby
Unlike many of the other casinos, 888 launches the casino in a separate browser window. After logging in, you get to the casino lobby, which is attractive and easy to use. You can also customize it by putting your favorite games on the front screen for easy access.
(Click images to enlarge.)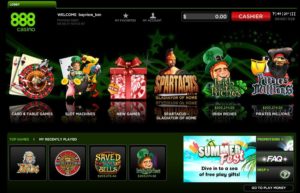 One useful hint... On my Windows laptop, the taskbar at the bottom covered up part of the game screens. To fix that, right-click on the taskbar, choose Properties, and check "Auto-hide the taskbar".
Now Nine Game Developer Brands
Thankfully, the recent focus on increasing game inventory has brought in new blood in the form of games from outside developers, with the number of game publishers on the site ballooning from just three in last year's review to nine at the moment.
It's not enough to just add more games if they are merely recycled skins of games already offered. And with these latest additions at 888 we are seeing not just rehashes of their existing inventory, but truly new and interesting offerings. That is real progress.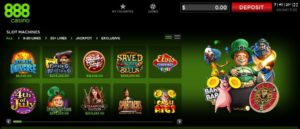 With games from Side City Studios and NextGen for example, the newest games feature rich and smooth graphics during game play, appealing sound effects and music, and interesting and varied bonus rounds and features. That is a big step up from many of 888's older in-house slots that were developed years ago. In fact, in recent updates, 888 has actually removed some of the older games, offsetting their loss with yet more new titles.
In last year's review, I lamented the loss of my favorite 888 slot at the time, Ultimate Genie. Well, I'm OK with that now, as the overall improvement makes it a worthwhile exchange.
So, what are some of these new additions? Well, for starters, they added a game that has historically been one of the most popular slots of all time. Cleopatra is finally available at 888. Other recent additions include a clever NetEnt title Medieval Money, and one of my favorites from IGT, Triple Red Hot 7s Free Games. They recently added a trio of Wheel of Fortune titles, including Wheel of Fortune Triple Extreme Spin.
More Progressive Jackpot Slot Games
My favorite among the current slot titles at 888 is a group of slots all linked to a shared progressive jackpot. As I write this, the jackpot stands at just over $200,000, and you can take a shot at this huge payday on several different slot games: Irish Riches, Steampunk Nation, Pirate's Millions, and Saved by the Bells.
These are well-implemented games and they offer a chance at a life-changing six-figure jackpot.
In all, there are now sixteen different games at 888 NJ that offer a progressive jackpot.
Table Games: Good quality, but poor rules and variety
Creating a comfortable user interface for online table games is a tricky business, but 888's years in the business finally show up here. Their developers have done a fine job on making a pleasant experience at their tables. The game play is quick and responsive, the sounds are just what we expect, and the action buttons are well placed and user-friendly.
The games are polished, but there simply are not many of them. You get blackjack, and 4 versions of roulette. That's it. Nada más.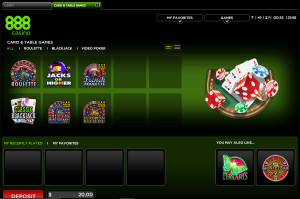 No craps, no baccarat, no Three Card Poker. Just blackjack and roulette.
Well, at least the roulette is good...
Roulette: An excellent version of a classic game
Roulette is exactly what you would expect, with both single zero and double zero versions. Personally, I don't play much roulette because even the European version has a higher house edge than I like in table games. But if you enjoy roulette, this implementation is quite good. In fact, I would say that roulette is the highest quality game among the 888 casino offerings. Here is a screenshot of their Premium European Roulette: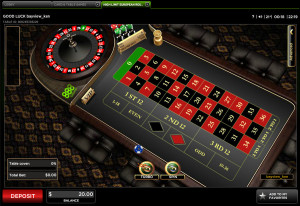 Classic Blackjack
The blackjack game is dealt from 6 decks. The dealer stands on all 17s, but you can split only once. You can play up to five hands at once. The result is a game that returns 99.54% with correct basic strategy play.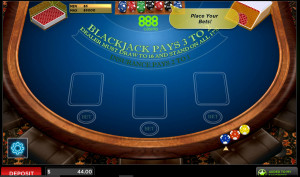 You can customize several things about the blackjack game, and the controls are easy to use.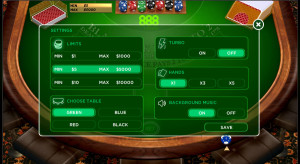 Video Poker is back!
Last year, 888 had removed their one and only video poker game, and for good reason. It was simply not up to the quality standards that players expect in today's market.
With the latest inventory improvements, they have relaunched video poker and this time they went with industry-leader IGT's "Game King" platform. There is no better implemented version of video poker in all of online gaming.
For the moment, 888 has installed the 4 most popular titles from the IGT Game King catalog. The slate includes Jacks or Better, Bonus Poker, Double Bonus Poker, and the most popular video poker game of all: Double Double Bonus Poker. Players just love the wild ups and downs that DDB can provide. Hitting four Aces plus a 2, 3, or 4 "kicker" yields a payout of 2000 coins, fully half of what a royal flush pays at 4000 coins. The other four of kind hands also pay more in this version, so if you get on a streak of quads, this game really cooks.
To say I'm happy with the arrival of Game King VP at 888 would be an understatement. It's been a long time coming, but this is great news.
Deposits and Withdrawals, Including PayPal
You can deposit into your 888 account with ACH (recommended), Neteller (also a good option), Visa or Mastercard (if your bank will approve the transaction), or with cash at the Caesars-owned casinos in Atlantic City. They also offer the PayNearMe option which allows you to buy credits with cash at 7-Eleven stores. Odd, yes, but actually quite convenient.
One very nice development is the addition of PayPal as a banking method. PayPal may be the quickest and easiest method to deposit your playing bankroll, and also to withdraw your winnings! This is great news.
Signup Bonus: It's Complicated
The signup promotion has also recently been changed but the details are, to put it mildly, confusing. Upon signing up at 888, you get a free $20 to try out the games, distributed as $10 in free play on specific games, plus $4 of 'immediate bonus' in your bankroll that can be used for casino or poker games, plus 6 $1 entry tickets for poker tournaments. Each of these portions of the $20 is subject to its own set of complicated requirements.
This kind of bonus confusion is one of the reasons that 888 has struggled in my casino rankings. My advice for these kinds of bonus remains very simple. Accept it as a way to try out the games, and don't plan on cashing out any winnings. Can you succeed in complying with the various rules and restrictions and actually withdraw a profit? Yes, if you're quite lucky. But plan on spending half an hour reading through a confusing set of cross-referenced webpages to determine how it works.
There are other casinos in the NJ market that really do offer painless free money bonuses. 888 is not one of them.
A $1500 Bonus on Your First Two Deposits
The first deposit bonus has also recently changed, and it is quite a bit larger than before.
On your first deposit, you are eligible for a 50% match of up to $500. On a second deposit (using the promo code welcome888), you are eligible for a 50% match of up to $1000.
With a total bonus of $1500, the raw benefit to your bankroll is quite strong. But of course, there are lots of details and requirements, including very high wagering requirements.
Please, if you plan to take advantage of these offers, spend some time looking through the details first.
And as always, I will mention that these offers can and do change frequently. While my description is accurate at the time of my writing, the casino website is always the definitive and current version, which may be substantially different.
Weekly Promotions
Perhaps the best feature of 888 is the consistent availability of ongoing promotions. At the moment, they have different promotions running nearly every day of the week.
The Bottom Line
I am extremely pleased to see that the increase in inventory that began a year ago continues and is actually accelerating. The promotions are appealing already. With the move to a more competitive game inventory, the overall offering has become a lot more compelling.
As for the signup bonus and first deposit bonuses, let the player beware. Confusing terms and conditions continue to be the order of the day at 888, so if you get lucky and run up a nice win with the free money, expect to spend some time working out the wagering requirements with their support personnel before you can withdraw it.
Even so, if you intend to try out the games, it is usually worth the trouble to get the bonuses.
Click here to visit 888 casino.
---