Review of Caesars Online Casino in NJ
---
---
Caesars is one of the best known brands in Atlantic City, and the Caesars online casino is among the most popular of the licensed and regulated online casinos in New Jersey. Tied for most video poker games in the state, and in a healthy second place for table games offered, Caesars is definitely a competitive offering.
Let's take a in-depth look at the games they offer, as well as the signup bonus promotion...
Caesars Review
Our Rating:

4.6
---
Summary:
Caesars is perhaps the strongest casino brand in NJ, and their online casino does not disappoint. With a robust slate of video poker and table games, plus a better than average slot portfolio, you'll find plenty to play. Add in the connection with their Total Rewards program, and it's a must-play.
Solid Inventory is the Key
Since our last review, Caesars has added nearly 100 new games, and their inventory remains among the best in the state. While they have dropped to number four in overall games, they remain especially competitive in video poker and table games.
If you like to table-hop at blackjack, this may be the place for you, as they offer 9 different varieties of the game. Even so, Caesars has followed the same path as the market in NJ, eliminating all but the most popular table games. The more exotic games that were found here a year ago are mostly gone from the lineup. More on that later.
Slots From Several Suppliers
The strength of Caesars slot variety is obvious when you consider that the casino offers access to games from 12 different software developers. The usual IGT and High 5 games are here, but NextGen, NYX, Bally, and Aristocrat also offer lots of games each.
Having so many different companies provide software, the slots tend to vary widely in function and theme. Often, when a casino has lots of games but from only a few developers, the games can tend to be cookie-cutter copies of each other. That's not the case here. The variety is deep, not just wide.
Here are some of the slot choices, in a few screenshots: (click images to enlarge)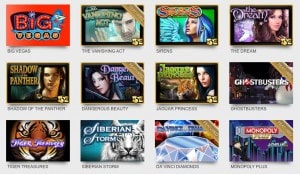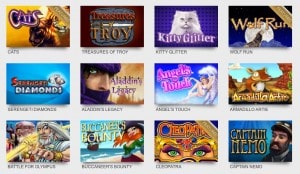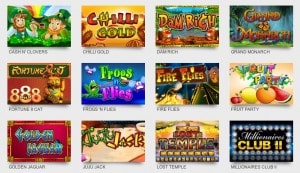 Take a look at one of the High 5 games, called Dangerous Beauty, with lots of stacked symbols.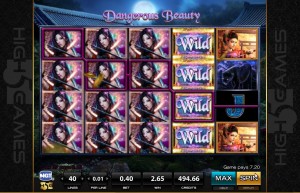 Progressive Jackpots
The casino features several different slot games with progressive jackpots, including games like Millionaires Club III and Rags to Riches, both of which feature a jackpot that is well into 6 figures.
Captain Nemo is basically another version of Millionaires Club III... It is the same concept, just a different look. To win the jackpot on either, you get to the bonus round and spin a set of three nested wheels. If you succeed in reaching the innermost wheel, you have a shot at the jackpot, which starts at $175,000 and climbs until someone wins it.
One of My Favorites: Aladdin's Legacy
There are a lot of quality games to choose from. As an example, Aladdin's Legacy is an attractive game with an interesting bonus round concept.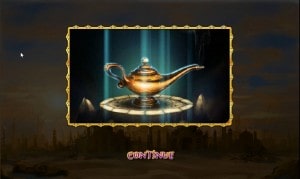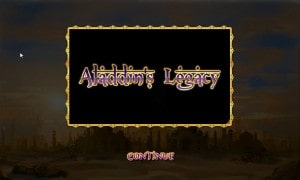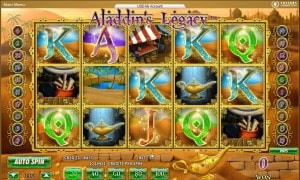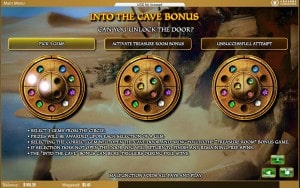 Table Games: This is the New Normal
A couple of years back, I gave Caesars very high marks for variety in table games. This year I still rate them among the top table game casinos, but it's based on a comparison to a much weaker market. In general, exotic table options like 4 Card Poker, 6 Card Poker, Pai Gow Poker, Casino War, and Triple Action Hold'em have entirely disappeared from the NJ market.
Caesars strong inventory is almost entirely composed of just the staple games: As of now, Caesars offers 19 table games. But of those 19, there are 9 blackjack and 7 roulette versions. The three games left are Three Card Poker, Let It Ride, and No-Commission Baccarat. So that's a disappointing slate compared to a couple of years ago. But it's still better than almost all the competition.
While I am talking about table games, note that the only baccarat version is a no-commission variety. In this case, the banker bet pays only half a win if the banker hand wins with a total of 8. That increases the house edge on the banker bet to just over 4%. Fortunately, the player bet is unchanged, with the usual house edge of just 1.24%. If you play this game, I recommend betting only on player.
If you play roulette, be sure to stick to the games like European Roulette which has a single-zero wheel, and therefore a lower house edge.
Nine Versions of Blackjack
Here are the details on a few of the blackjack options that are dealt at Caesars:
Micro Limit Blackjack 10:I was amazed to see that this version of blackjack came out on top at Caesars, despite paying only 6:5 on blackjack! That rule is bad for the player. However, this game adds one major benefit to offset it: Suited blackjacks pay 2:1. The player can also take multiple hits on split Aces, an uncommon and favorable rule. There are 3:1 payouts on 777, and 2:1 payouts on a 5-card 21. This is not a great game, but it is not a bad game either. Betting limits are $0.10 to $10, and the return is 99.62%.

8 Decks, BJ Pays 6:5, Dealer Stands on All 17s, Double Any 2 Cards, Double After Split, Split Once, Rehit Split Aces, No Surrender, Suited BJ 2:1, 5-card 21 automatic 2:1, 777 automatic 3:1

Micro Limit Blackjack 25: This is the same game, but with limits of $0.50 to $25. Return is 99.62%.
Vegas Blackjack:A basic $5 to $100 game with 4 decks. Return is 99.60%. For most players, this is probably a better choice despite being 0.02% "worse" than Micro Limit. In Micro Limit, a lot of the return comes from those suited blackjacks. Vegas Blackjack will be a lot less volatile, and with nearly as good a return, I would recommend this game instead.

4 Decks, BJ Pays 3:2, Dealer Stands on All 17s, Double Any 2 Cards, Double After Split, Split Once, Play 1 to 5 hands.

European Blackjack:The dealer does not take a hole card in this 8-deck game, which means that doubles and splits are vulnerable to losing to a dealer blackjack. Adjust your strategy accordingly. The return is 99.56%.

8 Decks, BJ Pays 3:2, European No Hole Card, Dealer Stands on All 17s, Double On 9,10,11 Only, Double After Split, Split Once, Early Surrender except vs Ace, No Splitting of 4s, 5s, or Tens.

Sidebet Blackjack:This game offers the opportunity to make up to five different sidebets: Mega Match, Blackjack Attack, Cash Queens, Crazy Sevens, and Pair Play. The sidebets of course have a higher house edge than the base game, which returns 99.54%.

6 Decks, BJ Pays 3:2, Dealer Stands on All 17s, Double Any 2 Cards, Double After Split, Split Once.
Strongest Video Poker Variety in NJ
I think that Caesars deserves the title of "Most Improved Video Poker" since my original review. The games available then were disappointing, but a lot has changed. They now boast the most VP games in NJ, including several very good paytables. In recent months, Golden Nugget and Caesars have been in a battle for dominance atop the VP market, and as I write this, they offer the same number of games, at 21.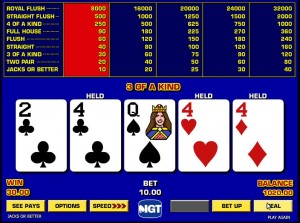 The IGT games are excellent in every way, including good paytables, excellent graphics and sound, and easy game play. In addition to the IGT titles, there are also VP games from two other developers: NYX and Spin Games. Although these are not implemented as well as the IGT GameKing titles, they do offer more types of video poker. If you like Deuces Wild and All American, you will find them here.
In an earlier review, I complained about an issue with the Spin Games VP games, where discarded cards could be drawn into the hand again. This was disclosed in the help screens, but it was still very misleading. To their credit, those games were removed until they were fixed. Now, the Spin Games VP behaves just the way it should. Kudos.
Improved Signup Bonus
The signup bonus at Caesars is a two-part promotion. First, you get a $10 no-deposit-required bonus just for creating an account. With a modest playthrough requirement of 1X on slots, 2X on video poker, or 5X on other games, this is a strong no-deposit offer.
If you choose to make a deposit, your first deposit is eligible for a 100% match bonus up to $300. Wagering requirements on that bonus have recently been reduced. You now need to wager 5X the deposit and bonus amount combined on slots. So, if you deposit $100, you will need to make 5X ($100 + $100) in wagers, or a total of $1000 (down from $2000 last year!).
That wagering requirement assumes you are playing slots. If you play video poker instead, your play counts at 50% toward the wagering requirements. (In my example, if you did the entire wagering on video poker, it would take $2000 in bets.) For table games, the contribution is 20% toward the wagering requirements. You can mix and match between the types of games if you want. These terms are much improved since our last review, and that's certainly good news!
As always, make your decision about bonuses based on how you prefer to play. If you plan to play a lot anyway, a wagering requirement is not a problem. These bonuses are an excellent way to boost the bankroll of a serious player. But if you plan to make a withdrawal after a more limited amount of play, you should pause to consider whether you want to take the bonus or not.
As always, note that bonus terms and conditions are subject to change. While this was accurate at the time I wrote it, don't make any decision without referring to the details at the Caesars site.
Final Thoughts
If there is one consistent theme in my review of CaesarsCasino.com, that theme is "improvement". Since my initial testing of the site in April 2014, they have slowly and methodically worked to improve their offering by adding new games, and in one case removing games that had an issue. This bodes well for the future. As the New Jersey market matures, I expect Caesars to remain one of the leading brands in the state. If you are playing online in NJ, you need an account there.
Click here to visit Caesars Casino.
No eligible creative found.