Review of Borgata Online Casino in NJ
---
---
The land-based Borgata casino is one of the most impressive venues that Atlantic City has to offer. Ever since the launch of online gambling in NJ, players have also flocked to the brand's online casino.
While the Borgata online casino is not as dominant as their brick-and-mortar namesake, it does have a dedicated fan base. Let's see what all the fuss is about...
Notice: This review is currently being updated with new information.
Borgata Review
Our Rating:

3.8
---
Summary:
Borgata has leveraged their spot atop the land-based casino market in NJ to push their online gambling product too. Their online offering is not among the best in the state, but it does have some strong points. Two things stand out: First, they offer a very simple no-deposit sign-up bonus, with fewer strings attached than some of the competition. And second, they have several nice progressive jackpot games.
Several Unique Slot Offerings
For slot players, Borgata does host a number of "nearly exclusive" games. Although the table above shows only a few exclusive games for Borgata, the casino does have more than 20 games that only appear at Borgata and the sibling casinos BetMGM and PartyCasino. The reason is that these casinos share the same underlying software technology, and they are the only online casinos in NJ offering games from the Bwin/PartyPoker developers.
Here are a couple of shots from the Borgata slots lobby:
(Click images to enlarge.)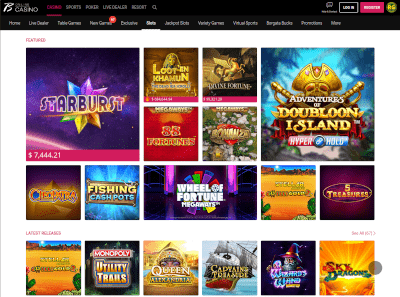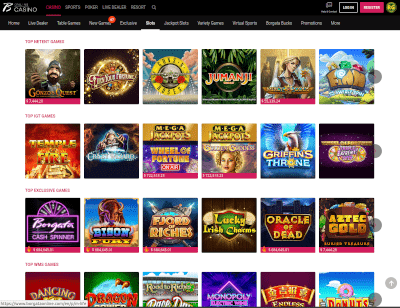 Slot Progressives: The Big One, and Ca$h Fla$h
Borgata offers two different groups of jackpot progressives.
"The Big One" features five different levels of progressive jackpots starting with the biggie at the top: "Collosal Cash". Yes, they really misspelled Colossal. But honestly, if I won the more than one million dollar "Collosal" jackpot, I'd be happy to agree to spell it any way they wanted!
The "Big One" actually features five different jackpots levels. The lowest three tiers hit very frequently, with the Blitz and Quick hitting multiple times per day. Of course the larger ones hit far more rarely.
This group of jackpots is available in four different games at Borgata: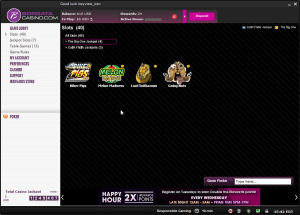 Whether you play Biker Pigs, Melon Madness, Loot'EnKhamun, or Going Nuts, any time you bet at least $1.35 on a spin, you have a chance to win one of the five jackpots. Here's a help screen from Going Nuts: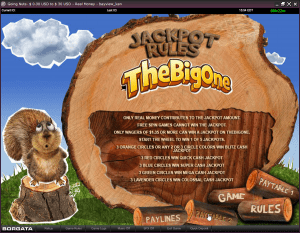 Another "quick hit" progressive jackpot is called Cash Flash, and it is available in three games at Borgata: Money Boat, Candy Store, and Pirates' Booty. This jackpot generally hits every couple of days.
I like progressive jackpots. They offer a chance for a game to offer a player edge when the jackpot gets high enough.
Table Games Offer a Couple of Surprises
Borgata table games include several versions of blackjack and roulette, which are pretty predictable of course. They also have two additional options that are more unique in the NJ market. One is craps, the popular dice game which is only offered by a handful of the NJ online casinos. The second is Texas Hold'em Bonus Poker, a game only offered here and at PartyPoker Casino.
The availability of table games offerings across the NJ casinos has tightened up a lot over the last year, with several casinos reducing the number of overall games. It is nice to see that Borgata is still offering Craps and Texas Hold'em Bonus, but it would nice to also see Three Card Poker and Let It Ride, which are notable omissions.
Blackjack
Borgata removed their best blackjack game, which was "Blackjack Single Deck". The other blackjack offerings are still reasonably good though nothing extraordinary.
If you like sidebets, you'll love "Sidebet Blackjack". With five different sidebets available on every hand, you can really go crazy. Just try to limit your time on this one, as those sidebets get really expensive, even if fun.
Here are the five sidebets:
"Mega Match": If your first two cards are suited you win. If you and the dealer both get a suited KQ, it pays a big 5000:1.
"Blackjack Attack": Your blackjack pays 18:1.
"Cash Queens": Any two-card 20 pays. If you get a pair of Queens against a dealer blackjack, it pays 500:1.
"Crazy Sevens": You win if your first card, two cards, or three cards are sevens.
"Pair Play": If your first two cards are a pair, it pays 12:1.
Roulette
For roulette, my advice is simple. Play the European version with a single zero, instead of the far more expensive double-zero American Roulette.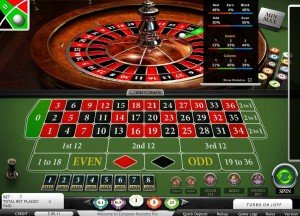 Video Poker: Improved, but still nothing special
The VP market in NJ has finally seen improvement across the board, and Borgata has expanded their inventory from last year's 4 games to the currently offered 12 games. That is good progress, but they remain stuck in the middle of the market.
The current slate of video poker games at Borgata includes titles from IGT's Game King line, and Spin Poker's handful of options.
(IGT is still the best, so insert obligatory GameKing screenshot here...) :-)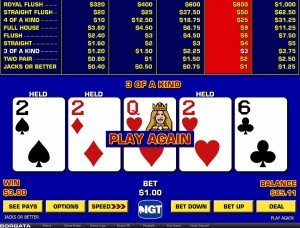 The paytables are:
Jacks or Better (9/6 paytable): 99.54%
Bonus Poker (8/5 paytable): 99.17%
Double Bonus (9/7/5 paytable): 99.11%
Double Double Bonus (9/6 paytable): 98.98%
Largest and Easiest No-Deposit Bonus in NJ
One definite plus for Borgata is their $20 no-deposit bonus. This is the largest no-deposit casino bonus in NJ, and it comes with almost no complications.
After you register an account, visit the Bonus tab in the casino to get the $20 credited to your account. The money is only available for use in slot games, but the wagering requirement is simply to play through the money one time.
Make $20 worth of bets on slot games, and whatever your balance is after that, you are free to play any games with it or withdraw it.
That's it… Sign up and get $20 of free spins on slot games.
A New 100% Match Bonus, up to $600
This bonus information is out of date. The new offer is valid up to $1000.
Last time I reviewed Borgata, there was no first deposit bonus offered, which was unusual for the NJ market. Well, that's been remedied, and the allowable amount is actually among the best NJ offers available, with some caveats.
Your first deposit can now be matched 100% with bonus dollars up to $600. However, be sure to notice that the wagering requirements are 10X on the bonus, and only slot games count toward the required bets. But if you plan to play a fair amount on slots already, this is a nice bankroll bonus that tops out at a sizeable $600.
The Bottom Line
Borgata
is a very popular casino, and the offering is reasonably good. Table game players have a few extra games that are uncommon in NJ, and the more common games work well. Video poker has improved since our last review, a trend that I hope continues here.
The $20 simple no-deposit bonus is definitely a plus, and an easy way to try out the games. If you are a slot player who chooses to deposit, the larger-than-typical bonus up to $600 is a strong option. But overall, Borgata ends up with a ranking from me in the middle of the pack.
---