Review of Golden Nugget Online Casino in New Jersey
---
---
Golden Nugget still tops our game list here at NJOC, with more games on offer than any other competitor in the market. But the field is gaining fast, and this could be the year that their lofty perch is contested.
Regular readers will know my opinion here. For online gaming, variety is key, and the Nugget really delivers. Any gambler should find his favorite games well represented here. More game choices just means more fun, and for now, the Golden Nugget is all that.
---
---
---
---
Summary:
With the highest number of games of any online casino in New Jersey at the time of this review, I love this place. Every gambler will find something to play here. Engaging slot titles, attractive table games, and a wide variety of video poker make this the most desirable casino in NJ.
More Games Than Any Other NJ Casino
The current list of games at Golden Nugget NJ eclipses any other in the state in sheer volume. While their utterly dominant position from a year ago has been eroding, the champ is still the champ, and for good reason.
The most noticeable change in their dominance comes in the number of "exclusive" games on offer, which are available at no other casino in NJ. In last year's review, the Golden Nugget had around two dozen such games, but this strength in unique titles has dissipated as the competition has caught up. The inventory of unique games is now nearly down to single digits, and they now trail competitors such as Caesars and SugarHouse.
I usually begin my reviews by looking at slot machines because they are the most popular games in the casino. But in this case, I want to begin by looking at the wide variety of table games offered at Golden Nugget instead. Don't worry, I'll get back to the slot games.
Live Dealer Games: Bridging the Gap
The most exciting development at Golden Nugget since our last review is the launch of Live Dealer games. This technology bridges the gap between land-based and online casino play, letting you sit down at a virtual table with a real physical dealer. A sophisticated software environment lets you see and interact with a real dealer at the table inside the casino, while making your bets and playing your hand from your computer.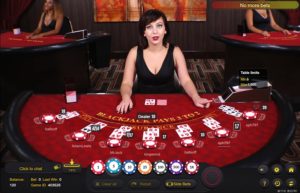 The blackjack game is dealt from a normal shoe, and the cards have very large numbers indicating the rank to make them easily seen over the video feed. You can also use the chat button in the lower left to send messages to the dealer and other players at the game. Unlike the solitary experience of playing typical online casino games, this lets you interact with other people, bringing back part of the social element of casino gaming.
When I played, the blackjack rules were 8 decks (reshuffle after 4 decks), dealer hits soft 17, double any two cards, double after split, no resplitting. That doesn't sound so good, but here's the surprise: Against a dealer Ace, they allowed EARLY surrender, meaning that you could surrender before the dealer checked for blackjack. No surrender was allowed for other dealer upcards. (Late surrender is the far more common variety of surrender. Early surrender is unusual, and offers a big reduction in the house edge.) This is easily the best version of online blackjack in NJ.
In addition to blackjack, Golden Nugget offers live dealer roulette and baccarat.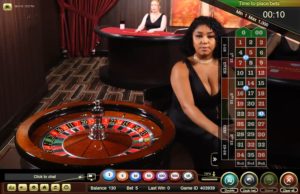 Table Games: Sharply Reduced Inventory
While I am excited about the new live dealer games, I often prefer the speed and ease of play of traditional online casino games. And here we have a disappointing development.
In general, the New Jersey market has not been kind to table games aside from the usual standards of blackjack, roulette, and baccarat. While Let It Ride and Three Card Poker are still available, the other exotic table games are disappearing fast from the market.
Compared to last year's review, Golden Nugget has removed a ton of games, like Mississippi Stud, Four Card Poker, and Pai Gow Fortune. What we are left with is basically the standards: Seven versions of blackjack (more on that in a moment), seven versions of roulette (overkill!), and Let It Ride, Three Card Poker, and No-Commission Baccarat.
At least the quality of what remains is quite good.
I'll pick Let It Ride as an example. You know this game from the casino floor, and the implementation here at Golden Nugget is flawless. The table is attractive...
(You can click the images to enlarge them, if you're viewing on a desktop or tablet.)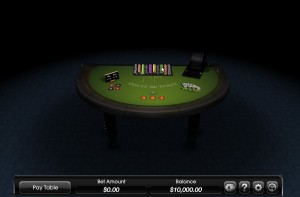 I love that zoom-in effect when the table opens up.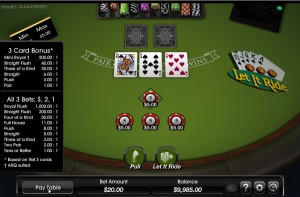 The base game paytable is standard, and even the 3 Card Bonus bet has a good paytable with a house edge of under 4.5%. The simple things are well-implemented here too, like the "Pull" and "Let It Ride" buttons. They are nice big buttons in the right places.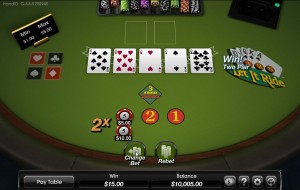 Between hands, you get easy access to Rebet or Change Bet. Simple, easy, effective. It's surprising how much the little implementation details can matter. When they are done right, you hardly even notice them. When they're done wrong, you can think of little else while you play.
This attention to detail is found throughout the table games offerings.
I do have one complaint. The only baccarat game offered is No-Commission baccarat, which has a higher house edge on the banker bet than regular baccarat. If you play it, I recommend sticking to the Player bet.
How About Blackjack?
The most surprising thing I found when looking at the Golden Nugget blackjack offerings was that all of their blackjack versions have a very similar return, despite rules that vary widely. The payouts range from a low of 99.54% to a high of 99.62%. So you can freely wander among their various games without worrying about settling on a poor choice. Just be sure that you adjust your strategies appropriately if you switch games.
For you blackjack fans, here is a quick rundown of the blackjack games:
Blackjack Micro Limit: 99.62% return:

Blackjack pays 6:5, except Suited Blackjack pays 2:1, 7-7-7 pays 3:1, 5+ card 21 pays 2:1. 8 Decks, Dealer Stands on all 17s, Split only once, Double any 2 cards, Double after split. You can also hit or double after splitting Aces, an odd and useful rule. There are 2 versions of this game, that differ only in the betting limits. Minimums are $0.10 or $0.25.

All the bonus rules make up for most of the 6:5 payoff on blackjack, but be aware that this game will be more volatile than the others because much of the return comes from rare hands.

Vegas Blackjack: 99.60% return:

Blackjack pays 3:2, 4 Decks, Dealer Stands on all 17s, Split only once, Double any 2 cards, Double after split.

This game allows you to bet up to 5 hands. This is my favorite for quality of gameplay too.

Blackjack: 99.59% return:

Blackjack pays 3:2, 6 Decks, Dealer Stands on all 17s, Split up to 2 times, Double any 2 card, Double after split.

Boring name, eh? This game is from IGT, and it allows multiple hands. I don't see much reason to choose it though as the buttons and graphics aren't as polished.

The rules don't specify the number of decks here, but it's either 6 or 8. The no hole card rule hurts, but is partially offset by the ability to surrender against a dealer ten before he might have blackjack. Adjust your play accordingly.

Sidebet Blackjack: 99.54% return:

Blackjack pays 3:2, probably 6 decks, Dealer stands on all 17s, Split only once, Double any 2 cards, Double after split.

A basic version of blackjack, but with lots of choices of sidebets. Just remember that sidebets may be fun, but they are also expensive over time.
All in all, it's a respectable selection of blackjack. I'd love to see a good single or double deck game added though.
Video Poker Players Will Love It Here!
If you are a video poker player in NJ, welcome home!
In an online market that has historically been weak for video poker, my pick for top of the hill is a tie, between Golden Nugget and Caesars. The two offer basically an identical inventory of video poker games, so given the quality of the other areas at Golden Nugget, I think this is the clear choice for VP fans.
The games are just simply good. The paytables on several of the games are strong and the play quality is excellent.
The staples of the VP slate are on IGT's GameKing platform. The classic Jacks Or Better (9/6 @ 99.54%), Bonus Poker (8/5 @ 99.17%), Double Bonus Poker (9/7/5 @ 99.11%), and Double Double Bonus Poker (9/6 @ 98.98%) are exactly like the games you'll find in the land-based casino.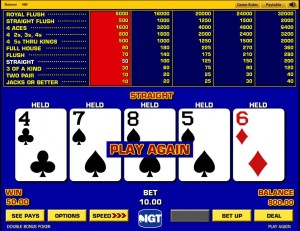 In addition to the IGT games, there are several games developed by NYX (formerly Amaya). A few of the games are duplicates of the IGT offerings, but there are some additional choices as well. If you like wild-card games there is a 15/9 version of Deuces Wild, but the paytable is sneaky in shorting the Wild Royal to pay only 20 coins instead of the usual 25. The result is a poor payback of only 97.97%. Other games include All American (98.11%) and Tens Or Better (99.14%).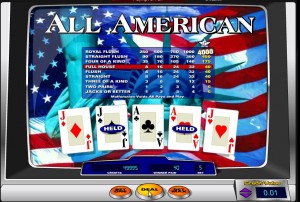 When playing the NYX versions, I really miss the keyboard shortcuts present in the IGT games. (In those, you can press 1-5 to hold cards, and spacebar to draw.) The payout sound in the NYX version wears thin pretty quickly too. But with the extra game types they offer, I'm glad to have choices.
A good NYX version of Aces and Faces has regrettably been removed since our last review, but for NJ, this remains an excellent VP casino.
Slots, Slots, and more Slots
Slots are the mainstay of casinos, and the Nugget does not disappoint. While the pace of new game additions may have slowed since last year, this is an inventory chock full of favorites and soon-to-be favorites. Now, I'm all for trying out new games, but I also like to see some well-known and popular slot titles that players will recognize from their visits to land-based casinos. You'll get both here.
Some of the more popular additions include Bally's Quick Hit Platinum...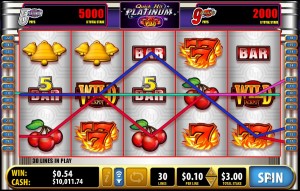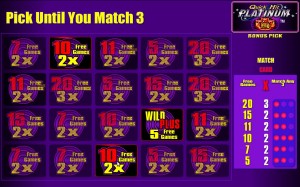 and IGT's Water Dragons.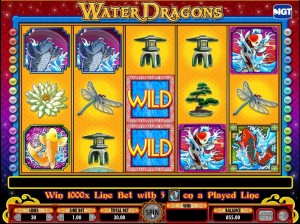 Or how about Hot Shot, with its engaging soundtrack and the game-inside-a-game bonus round?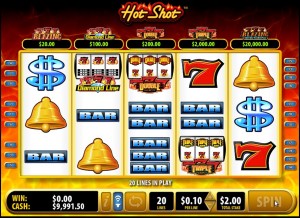 Did I mention the cool fireball graphic effect?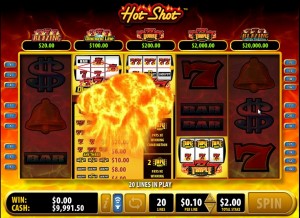 With so many titles, there is a lot of variety. I'll just throw some names at you... Cash Spin, Double Diamond, Wolf Rising, Dragon Drop, Chilli Gold, Cats, Samurai Princess, Aladdin's Legacy, Monkey in the Bank. And the list goes on. And on.
Quality and quantity? Check, and check.
Signup Promo and Bonuses
The Golden Nugget signup bonus is a two-step bonus that is probably becoming familiar to you from other casinos. The offers are a free $20, plus a 100% deposit match up to $1000.
First, be sure to use our exclusive code when you register, and you will get a simple free $20 to try out the games. The exclusive bonus code is NJOC20. Be sure to type in the code when asked, if it does not already appear. $20 will be credited to your account to try out the games. The wagering requirements on the free $20 is 10x or $200 on slots, or more on other games, but after that amount of play whatever you make is yours to play or withdraw.
If you choose to make a first deposit, you can get a 100% Match bonus ($30 minimum, $1000 maximum). The terms on that bonus are typical for NJ, with wagering requirements that apply. Fortunately, since our last review, the requirements have been cut quite a bit. Now, if you play slots, you'll need to wager just 5X the deposit plus bonus. For example, a $100 deposit to get a $100 match would need $1000 in wagers on slots before a full withdrawal could be made. (That's down from $4000 last year!) If you play table games, video poker, roulette, or blackjack, your wagering only counts at a 20% rate. If you were to do all the needed wagering on those games, the same $100 bonus would require $5000 in wagers.
As always, weigh the benefits of a bonus against the convenience of being able to withdraw without worries. If you plan to play a lot anyway, accepting the bonus is an easy decision. If you tend to hit and run, you might be better off without it.
Note that bonus offers and their terms and conditions can change frequently. While my bonus description was accurate at the time of writing, you should always check the casino website for the latest details.
Rewards Club
While it is always good to have a loyalty program where you can earn cashback for your play, the Nugget's Golden Rewards Player Club has pretty dismal earning rates for cash. You get $1 in cash back for each $2000 you wager on slots, or $10K wagered on VP or tables. You get some bonus points for each day that you play, and each day that you deposit, but the numbers are small.
It's better than nothing, but the rewards program is perhaps the weakest feature of Golden Nugget.
However, if you are already have a players card at their land-based casino which is the Elite or Chairman level, be sure to check out the VIP Rewards program. Contact casino support to be signed up for that, which will get you special programs, weekly bonuses, and access to exclusive bonus offers. If you plan to play a fair amount, it would be worth contacting support about membership in the VIP program regardless of whether you have the land-based elite tier card.
You can also get VIP status by earning 3000 points in the casino, and that includes the effect of any multiple point promos too.
Deposit and Withdrawal Methods
All the usual banking methods are available...
My favorite deposit method is ACH, a bank transfer that makes the funds available in your casino account almost immediately. You can also deposit with Visa or Mastercard credit or debit cards. I always advise caution when using credit cards for depositing. Some credit card companies will treat a deposit at a casino as a cash advance, and charge extra fees on the transaction. If in doubt, contact your card issuer first. And, although the issue is improving all the time, there are still issues in New Jersey with some credit card transactions being declined by the issuing bank.
You can also mail in a personal check for a deposit, or deposit with cash at the Golden Nugget cashier cage in Atlantic City.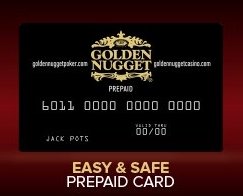 In addition to those typical methods, Golden Nugget also offers another option that is unique. You can sign up for a Golden Nugget Prepaid Card, which is basically a prepaid Discover debit card. You can fund the card with a variety of methods, including other credit or debit cards, or ACH. You can then use the card to fund your account at the online casino and you can also use it anywhere that Discover cards are accepted, including to withdraw cash at an ATM. The main benefit is that withdrawals from the casino are immediately available for use on the card. It's an interesting concept, and one that some people may find an effective choice.
In addition, at least for now, they are running a promotion that gets you $1 cashback on any debit or credit card reloads of $100 or more to the prepaid card.
Final Thoughts
Golden Nugget impressed me with their product when they launched with a ton of games, and an aggressive schedule of adding even more. While their competition is now closing the gap, the Nugget remains at the top of the list here at NJOC. The Nugget's impressive inventory is a strong reason to give them a serious look.
Sure, I'd like to see even more video poker versions. How about SpinPoker, or Super Times Pay? Someone should be working hard to make agreements with those game publishers to get their innovative games available online.
And yes, there are still rough edges in a few of the games. Some of the blackjack versions are more pleasant to play than others. And while we're at it, how about adding a good single deck game?
But wow, there's so much to like here. I'll leave it at that!
Click here to visit Golden Nugget Casino.
---