Review of Harrahs Online Casino in NJ
---
---
Caesars Entertainment has three different products in the New Jersey online casino market. The flagship Caesars casino is the most extensive, while the Harrahs and 888 sites both use the more limited software technology from the 888 brand.
Here I focus on the Harrahs online casino. Let's take a look at the games and promotions offered at this brand...
This review needs an update. Stay tuned for a new version soon.
Harrahs Review
Our Rating:

3.6
---
Summary:
The Harrahs NJ online casino is powered by the same software as the 888 casino, and suffers from the same limited game selection. Starting from a low baseline, it is at least nice to point out they are perhaps the most-improved recently, with their game count more than tripling over the past year. One continuing strong point is that Harrahs offers the best roulette game in NJ. A busy promotion calendar is also a plus. With their new attention to game inventory, I see lots of potential here, and I am raising their rating as a result.
The Smallest Game Inventory in NJ
The Harrahs online casino uses software technology from 888, and the game offerings between the two are identical. Unfortunately, that means they are both at the bottom of the list when it comes to game variety.
The HarrahsCasino.com site offers games from only two developers: 888 and Williams. With table games that include only 1 version of blackjack and 4 roulette titles, the sparse population of games continues there as well.
If there is good news, it is the addition of seven new slot titles since our review last year. Let's hope that is a sign of things to come.
The casino lobby makes navigation easy. (Click images to enlarge.)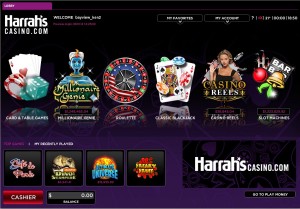 Table Games: Only Roulette and Blackjack
With only two game types available at the tables, it's fortunate that the games are well-implemented. If you gamble at online table games for very long, ease of use becomes very important. Harrahs meets the challenge in that regard. The action buttons are conveniently placed and comfortable, and I found the games to be quick and easy. It's amazing how much a little thing like button placement can matter when you play a lot of hands or spins.
With only blackjack and four versions of roulette to choose from, many players will definitely miss their favorites like craps or three-card poker. Still, the news isn't all bad...
The Best Online Roulette in NJ
The roulette implementation is the highlight of this entire casino offering. The graphics are attractive, with both single-zero and double-zero wheels available. The four versions are "Roulette" and "High Limit American Roulette" (both double-zero games), "High Limit European Roulette" and "High Limit French Roulette" (both single-zero games.)
The double-zero games have a house edge of 5.26%. The European single-zero wheel has a house edge of 2.70%. However, assuming the minimum bet of $5 is not an issue for you, the best game is the French table, where you only lose half your even money bets when a zero comes up. That reduces the house edge to just 1.35%. My advice is, of course, to only play the French version! This is the lowest house edge version of roulette available online in New Jersey.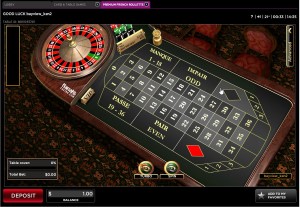 Blackjack: Comfortable, and Typical
The blackjack implementation again features well-designed game play. The rules are pretty typical, with 6 decks, dealer stands on all 17s, but you can only split once. You can bet from one to five hands per round.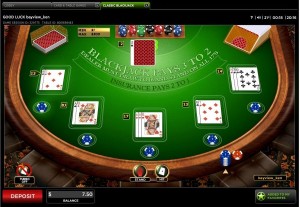 On to the Slots
Slot players have a lot more choices than table players at Harrahs, but the inventory is still thin. With games from only two developers, Williams and 888, they continue to trail the competition in game diversity.
My favorite of the 888-developed games is Ultimate Genie, a slot I described in detail in my original 888 review. (That game is no longer available, and the updated 888 review no longer mentions it.)
Here is the first screen of the Slots Lobby: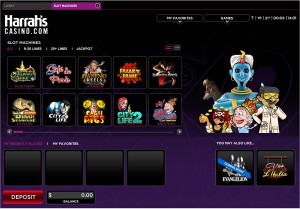 Another of the Harrahs games that I liked was Knights and Maidens, with its medieval theme: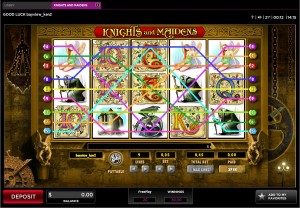 A Bright Spot: Several Progressive Games
I admit it... I have a soft spot for games with progressive jackpots. Because any game where a jackpot grows until someone hits it may offer a profitable player situation, I figure The more progressives, the better! At Harrahs, you'll find several jackpots, from the life-changing Ultimate Genie to the far more frequently hit Dino Jackpot Stampede. Other games with jackpots include "Ultimate Universe", "The Royals Go Camping", and "Casino Reels".
Video Poker: Don't Bother
Video poker is the weakest point of all at the Harrahs casino. There is only one game: "Jacks or Higher". And the paytable is not good. At first glance it appears to be a "full-pay" Jacks or Better game, paying "9 for 1" on a full house, and "6 for 1" on a flush. However, if you look more closely, you'll see that four of a kind pays only 100 coins instead of the normal 125 on a 5-coin bet. Also, a straight flush pays 200 instead of 250. That brings the return down to a miserly 98.25%.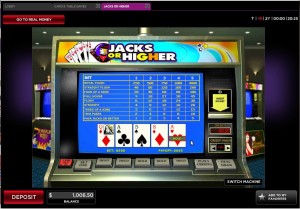 In addition to the poor paytable, the game play is anything but user-friendly. The card graphics are quite small, and the hold buttons are also very small. Adding insult to injury, an annoying payout sound accompanies every paying hand. If you must play it, I recommend turning the sound off, using the small speaker icon near the top of the game window.
There are many excellent video poker games available online in New Jersey. This is not one of them.
Well, enough ranting about the game selections. Let's look at the bonus offer:
Signup Bonus: 20 Free Spins
The signup promotion at HarrahsCasino.com is 20 Free Spins with no deposit required. Getting any amount of free play with no deposit required is always a good thing, since there is no downside. Just register as a new player and you get some real-money play without having to risk any of your own money.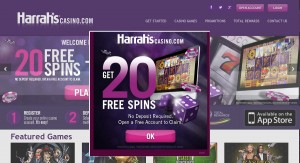 When I signed up to test it out, it worked like this: After registering, I immediately received an email with the subject line "Let The Good Times Roll". Inside that email, there was a link to click that awarded my 20 free spins in the casino.
Once you log in again, you will be offered a choice of which game to use for your 20 free spins: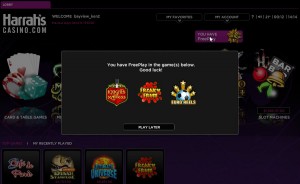 When I got this bonus, I used the spins on my favorite of the three offered games, Knights and Maidens. The 20 free spins are played on 20 lines at 5c per line for a total of $0.45 per spin.
100% Match to $100, but with complicated terms
If you choose to deposit, you can also get a 100% deposit match bonus of up to $100. But...
The wagering requirements before you can cash out a bonus are quite confusing, probably intentionally so. You really have to read through the fine print carefully to get any idea what it means. By reading through the multiple sections that apply, I was able to determine that each $200 you bet on slots will release $10 of the bonus money. If you were to max out the bonus at $100, you would need to bet $2000 on slots to fully release the bonus. If you play roulette, the requirements are 5 times higher. For blackjack and VP, it's 10X.
If you are not planning on playing for an extended period, it may be easier to just skip the bonus.
Ongoing Promotions
Interestingly, a relatively lackluster game selection may lead directly to one player benefit...
To be competitive, this casino needs to constantly offer something a little extra to keep players coming back. And Harrahs does that by offering special promotions almost every day of the week. Actually, it's six out of seven days a week that you will find some kind of extra incentive for your play.
It's also worth noting that by playing online you can earn Tier Credits and Reward Credits in the Caesars-wide Total Rewards program. These Tier Credits allow you to progress through the land-based player card tier system, and the Reward Credits can be directly used for comps at any of the Caesars-owned casinos nationwide.
Final Thoughts
HarrahsCasino really has two different experiences, depending on whether you are a table player or a slots player. The table games are well designed, but there are only two choices of what to play. If you are an avid fan of roulette, you'll be right at home here, with the best game available online in New Jersey. For blackjack players, the games are solid though not exceptional. But, hey... That's it. There are no other choices.
For slot players, there are more choices, but still a poor variety compared with other casinos in NJ.
Despite my lukewarm review, I think that any serious player in the NJ market should have an account here. My advice: Sign up and use the free spins. Try it out. Once you're on the Harrahs mailing list, you never know what kind of promotional offers may land in your inbox that will be worth a look. And there's always that excellent roulette game.
I have no doubt that the competitive market we are now seeing in New Jersey will lead all the operators to continually upgrade the games they offer. In the case of Harrahs, they need to be working overtime.
Click here to visit HarrahsCasino.
---