Review of Virgin Online Casino in NJ
---
---
Virgin is perhaps the world's most unusual collection of businesses, but it has certainly become an iconic brand. From music stores to cell phones, from airlines to space travel, the red Virgin logo seems to pop up all over the place. Tropicana Casino in Atlantic City has partnered with the brand to bring the Virgin Online Casino to players in New Jersey.
So, just how does the Virgin casino stack up to the competition? Let's take an in-depth look...
---
---
---
---
Summary:
The Virgin brand epitomizes cool, and their NJ casino delivers on appearance and cool factor. The table game selection is the best in NJ, with several versions available only here and the sister site Tropicana. In slots and video poker, the game selection is more limited, but continues to improve. The games they do offer are top-notch, so I can't wait to see more added.
The Virgin website is the sharpest looking of any of the NJ casinos. Notice how the logo bar smoothly shrinks as you scroll to make room for the content below. The whole site just sparkles with a sophistication that shows even in the smallest details. OK, enough of me being a design fanboy!
The Virgin homepage focuses on the signup bonus, which we'll get to a bit later:
(Click on images to enlarge.)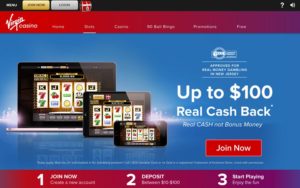 Popular slots from several major developers
As the online casinos in New Jersey have continued to expand their offerings, all of the sites now provide games from several different developers. Virgin has done that as well, but they are still behind in the race.
But I definitely see improvement since last year's review. At that time, Virgin offered slots from IGT, High 5, Williams, and Gamesys, plus one title from Ballys. Now they have added more than two dozen games developed by NetEnt, plus the popular "Cash Spin" game from Ballys. Although they have not kept up with the torrid pace of game additions in the overall market, they do seem to focus on quality over quantity, so the inventory is better than the raw numbers would indicate.
The usual classics from IGT
As a long-time staple on casino floors, the main games from IGT will be quite familiar to slot fans... Games like Cleopatra, Siberian Storm, and Wolf Run are among the standards you will find here, along with some licensed brands like Super Monopoly Money, and Ghostbusters.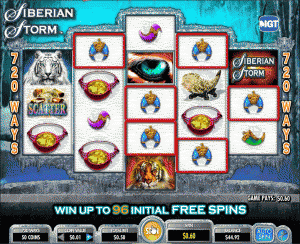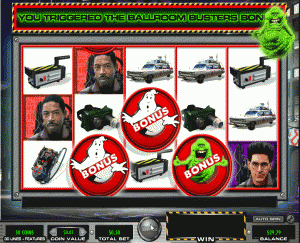 Those IGT games are offered at many of the online casinos in New Jersey, and players pretty much know what to expect of them. The graphics and sound are always top-notch, and that makes for a very enjoyable time playing them.
And some soon-to-be classics from Gamesys
It's more interesting to look at what happens once you stray from the well-known titles into the proprietary games from Gamesys. It's here where Virgin shines. I found the Gamesys games to be interesting and well implemented, so you will find some gems among titles that are probably not familiar to you yet. Check out games like Secrets of the Phoenix, Tiki Island, and Wonderland. Each is a well-crafted game with innovative bonus features.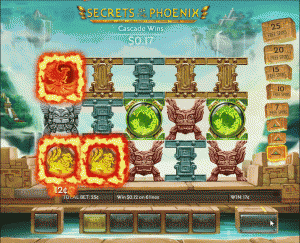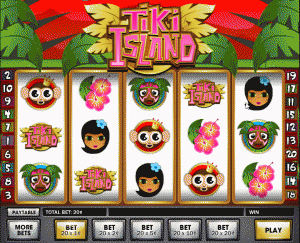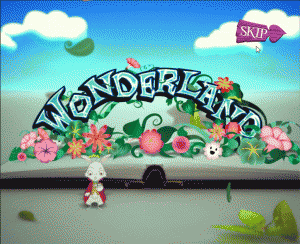 Table Games: Best in the State
Most of the NJ casinos have scaled back their table games offerings over the past year. But Virgin has held on to their entire inventory, at least so far. Given the declining offerings of their competitors, Virgin now stands at the top of the hill. And it's a solid slate.
Virgin
now offers seven types of table games : Blackjack, Roulette, Baccarat, Hi-Lo, Pai Gow Poker, Keno, and Craps, which was added since our last review. Craps and Pai Gow are getting hard to find elsewhere, so it's especially nice to see them offered here.
And the implementation of each is excellent. The software is from Gamesys, and there is a lot to like about it. The games feature nice animations and sound. There are several useful button choices: "Repeat and Deal", "Double and Deal", and "Let Em Ride" to parlay your winnings.
One feature that I definitely appreciated is the "In Play" indication in blackjack, which clearly shows which hand is currently being played. Some competing software makes this less obvious, which can lead to errors when you play split hands or on multi-hand tables. You won't have that problem at Virgin.
In general, for each of the table games at Virgin, the game controls are obvious enough that you can relax and just play. And, after all, isn't that what you want in an online table game?
Roulette and Blackjack Variants
They have added an American Roulette game, which is not useful in my mind. Stick to the two roulette versions which feature a single zero wheel instead. The betting limits are $0.10 to $1000 on the regular version, and $10 to $4000 in High Stakes Roulette.
For blackjack, Virgin now offers six versions, with bets from $1 to $1000. Here are the in-depth details of a few of the versions:
Single Deck Blackjack: This is the highest return game at 99.74%.1 Deck, Dealer Stands on All 17s, No Dealer Hole Card, Double on 9,10,11 only, No Double After Split, Split only once, No Surrender.

Atlantic City Blackjack: This is also a good game, with a return of 99.64%.8 Decks, Dealer Stands on All 17s, Dealer Does Take a Hole Card, Double Any 2 Cards, Double After Split, Split up to three times, Late Surrender.
Multihand Blackjack: This version offers a lower return at 99.24%.5 Decks, Dealer Stands on All 17s, No Dealer Hole Card, Double on 9,10,11 Only, No Double After Split, Split only once, No Surrender.

You can play from one to five hands on this game. (Playing multiple hands is the only reason to choose this game, as the return is quite a bit lower.)
It's important to note that both the Single Deck and the Multihand Blackjack do not deal a hole card to the dealer. These "European No Hole Card" games mean that you risk losing double and split bets to a dealer blackjack. As a result, you should not double or split against a dealer ten or Ace in these games, with one exception... Still split AA vs ten. If you fail to adjust your strategy in this way, your return will be lower than those I stated.
"Game King" Video Poker
The video poker choices at Virgin are limited to only six games, although to be fair, the multi-hand "Three Play" and "Five Play" games each actually have 9 different games within. Although the total number of VP versions is limited, they have chosen to host only the best games available, which are IGT's Game King games with good paytables.
Jacks or Better (9/6 paytable): 99.54%
Bonus Poker (8/5 paytable): 99.17%
Double Bonus (9/7/5 paytable): 99.11%
Double Double Bonus (9/6 paytable, with 1000 coin royal): 99.51%
These games are exactly like the ones you will see in land-based casinos. Denominations range from 25c up to $10.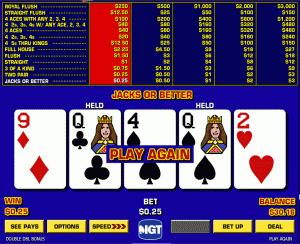 The most popular video poker game in casinos is Double Double Bonus, and you get a nice little extra on this game at Virgin. The royal pays 1000x your bet instead of the usual 800. That's means a typical $5 bet will get you a $5000 payout on a royal flush instead of the $4000 you would get at a typical land-based casino. Nice!
A $100 Real Cash Signup Bonus, sort of...
The signup bonus promotion at Virgin Casino is different than most of their competitors. The bonus is a loss rebate of up to $100. So, you play with your own money, and if you lose $100, they will refund it so you can try again or withdraw the cash.
You can think of this as a way to take a free shot. If you want all the details on how it works, and the best way to utilize it, see my article A Look at Virgin Casino's Bonus Cash Offer. For my play, the bonus worked exactly like you would hope. I lost my starting money, but ended up turning the rebate into a withdrawal of $200. I hope your luck is the same!
Final Thoughts
Virgin's brand is a hip and colorful one, and the Virgin casino website definitely has that vibe. Although the slot selection could use more titles, the mix is interesting, especially the Gamesys games that are hard to find elsewhere.
Table games are implemented especially well, and offer reasonable rules. With craps and pai gow poker plus all the basics, this is now the best place in NJ to play online table games.
In the video poker department, they offer only six games. But those six are easy to play and offer excellent paytables. I can live with that.
All in all, I give them a big thumbs up. This has become one of my true favorites in the New Jersey online casino market. I think you'll like it.