Where is the Best Video Poker Online in NJ?
---
---
Video poker has two big advantages over slot machines.
You can see exactly how "loose" or "tight" a game is by just comparing paytables.
Skill matters. If you play video poker correctly, your results will be much better than the average player.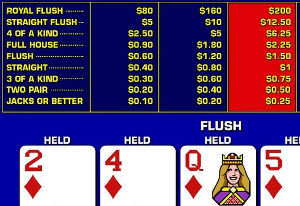 Video poker can be one of the best games in the casino, offering as good a gamble as even the best table games. I am going to take a look at every game available in New Jersey's online casinos, to see which games are good, and which ones you should avoid.
I'll get right to the casino VP rankings, and then I will have a lot to say about each...
Before I get into the commentary, here are the top 5 video poker games available across all of the casinos:
Why Golden Nugget and Caesars are #1 in VP
Each having 21 varieties of VP, including 8 games that return over 99%,
Golden Nugget
and
Caesars
top my list of the best places in NJ to play video poker.
They have games from all three of the main VP game providers in New Jersey: IGT, NYX Gaming, and Spin Games. The game with the lowest house edge is the excellent IGT "9/6" Jacks or Better game, but they also have the best Deuces Wild game in NJ: Deuces Wild Elite. This game is more commonly known as Deuces Wild Bonus, and pays extra for premium hands like five Aces.
Golden Nugget and Caesars grab the top ranking with a combination of good variety and strong paytables.
Mohegan Sun & Resorts
These casinos tie at #2, because they both offer the best version of the most popular VP game, Double Double Bonus. (Mohegan and Resorts have exactly the same choices of games.) The paytable for that game is the "full-pay" 9/6 version of DDB, but it also pays more than usual for a Royal Flush. The Royal pays 1000 X your bet instead of the normal 800 X. This super-pay version of DDB is also available at Virgin and Tropicana, but the overall inventory has more variety at Mohegan Sun and Resorts.
The Middle of the Pack
Tropicana
,
Virgin
, and
Borgata
all suffer from the same problem... Only a handful of VP games are available at each. Fortunately, the games that are on tap actually are good ones, with the IGT titles and good paytables among them. But there is nothing here that you can't find in the places already mentioned.
Bottom of the Barrel
And I can't get away from this topic without pointing out the two really awful VP casinos. Harrahs and the identical 888 Casino both offer only ONE game of video poker. It's called "Jacks or Higher", and as it sounds, it is a simple Jacks or Better clone.
They are sneaky about the paytable though. It's a "9/6" game, but they short-pay the player when you get a four-of-a-kind, getting only 100 coins on a 5-coin bet instead of the usual 125 coin payout. They also drop the straight flush pay from 250 to 200. That drops the player return to just 98.25%, instead of the 99.54% of the real paytable offered elsewhere.
If that isn't enough to discourage you, the game is also so badly implemented that it actually hurts my brain to play it. If you are a player at either casino, check it out just for the amusement value.
My VP wishlist for NJ
Video poker games in NJ have improved a lot since the casinos launched, but I continue to complain about this area in most of my reviews. Even with the good inventory at Golden Nugget, there are so many opportunities to expand what is available. I would love to see some of my land-based casino favorites arrive online, such as Super Times Pay, SpinPoker, or Ultimate X. Even a good single-line version of Joker Poker would be a welcome addition. (NYX's Jester Poker is a poor substitute, and the version inside IGT's Triple Play games has a terrible paytable.)
I'm pleased to see progress, but this is still an area where much more good stuff could be done. Hopefully we will continue to see the market push for more variety.
In the meantime, I'll borrow a signoff from video poker expert Bob Dancer, who ends the weekly Gambling with an Edge podcast with simple advice: "Go out and hit lots of royal flushes, everybody." Sounds good to me.